AVM Options for VA IRRRLs
VA IRRRL transactions require the current value to be determined by the use of several options including Automated Valuation Models (AVMs).
Effective immediately, PennyMac is expanding the AVM options allowed. The complete list with corresponding maximum Forecast Standard Deviation (FSD) /confidence level is provided in the below table: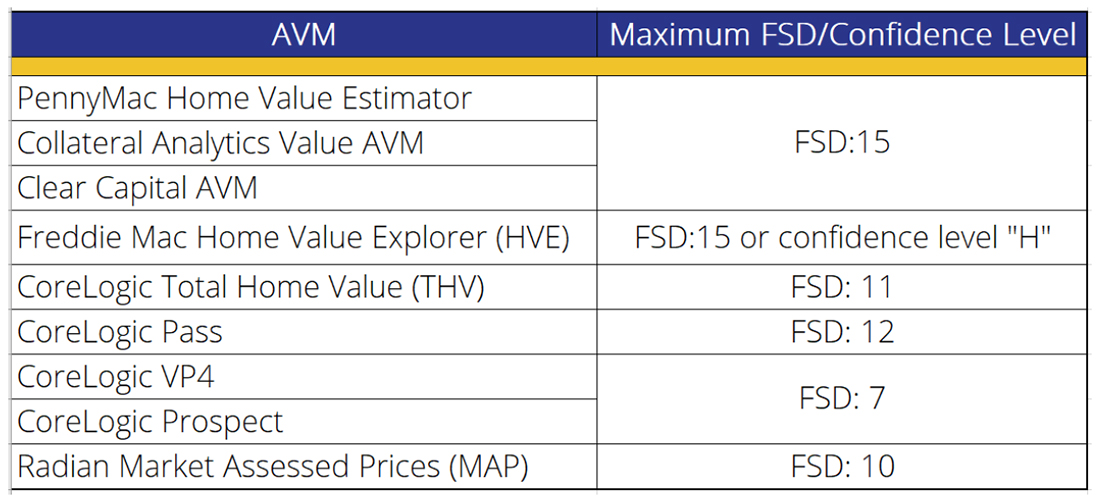 As a reminder, at the minimum a 2055/1075 appraisal must be obtained if the required AVM FSD or confidence level is not met.
Reuse of AUS Case File IDs
PennyMac reminds Correspondents that a unique AUS (DU or LPA) casefile ID is required for each loan. A casefile associated with a previous transaction may not be reused for a current transaction. Reusing a case file ID will render both the originally approved loan and the current loan ineligible for purchase by PennyMac and for the rep and warranty relief provided by the AUS.
Please contact your Sales Representative with any questions.