Peak Performance Non-Delegated Partner Achievement:

Q1-2023 Top Partner Badge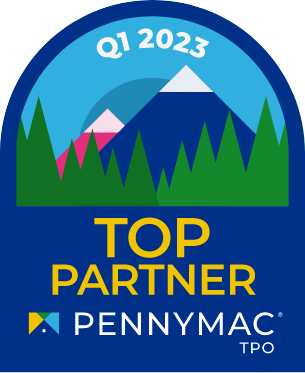 Download
Achievement Badge (web version)
Standards and benefits are subject to change at the discretion of Pennymac at any time.
Equal Housing Opportunity
© 2023 PennyMac Loan Services, LLC, 3043 Townsgate Rd, Suite 200,
Westlake Village, CA 91361, 818-224-7442.
NMLS ID # 35953. Trade/service marks are the property of PennyMac Loan Services, LLC and/or its subsidiaries or affiliates.
Arizona Mortgage Banker License # 0911088. Licensed by the Department of Financial Protection and Innovation under the California Residential Mortgage Lending Act. Colorado office: 5500 South Quebec Street, Suite 260 Greenwood Village, CO 80111, (877) 215-2552. Massachusetts Mortgage Lender License # MC35953. Minnesota: This is not an offer to enter into an agreement and an offer may only be made pursuant to Minn. Stat. §47.206 (3) & (4). Licensed by the N.J. Department of Banking and Insurance. Licensed Mortgage Banker-NYS Department of Financial Services. North Carolina Permit No. 119504607, 119505929, 119506567, 119506570, 119507419. Rhode Island Licensed Lender License # 20092600LL, Loan Broker, and Third Party Loan Servicer. Texas office: 2201 W. Plano Parkway, Suites 150 and 300, Plano, TX 75075. For more information, review Pennymac's state licenses and important notices. Co-op loans not available. Some products may not be available in all states. Information, rates and pricing are subject to change without prior notice at the sole discretion of PennyMac Loan Services, LLC. All loan programs subject to borrowers meeting appropriate underwriting conditions. This is not a commitment to lend. Other restrictions apply. (09-2023)
This is an advertisement. This is not intended for distribution to consumers.